See our
Gallery
Erik Per Sullivan making pasta with chef Dante de Magistris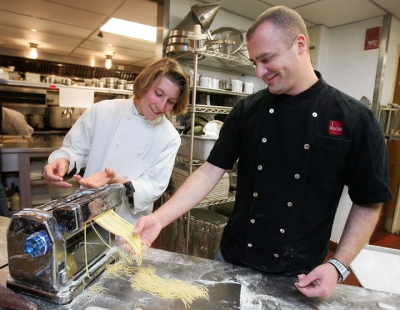 From the Boston Herald, Sunday, January 6, 2008
http://bostonherald.com/inside_track/inside_track/2008/01/spirits_high_ghostly_maine_'makeover'
By:Gayle Fee
Octopus 101
Milford homey-gone-Hollywood
Erik Per Sullivan
of "Malcolm in the Middle" fame is cooking up thoughts of becoming a chef!
TV's little Dewey Wilkerson, now 16 and a upperclassman at Phillips Exeter Academy, got a taste of the high-end restaurant biz when he spent a day shadowing Cambridge [, Massachusetts] chef
Dante de Magistris
of
dante Restaurant
for a school paper.
"The project for English (class) was based on, I think, a column in The New Yorker called 'A Reporter At Large,' Erik told the Track. "The point was to get a feel for a person's character through their work. We needed to find someone who worked with their hands and analyze them."
Erik said he thought he would find someone to profile for his 10-plus page report while in Panama on Christmas break, but didn't have any luck.
"I tried to find someone in Panama who was educated and works with their hands, but I couldn't find anyone," he said. "I was really stressed out about the project so I had to cut my vacation short and come back here to find someone to profile."
After returning to Milford, Erik hooked up with Dante through family friends, "Chronicle" host Mary Richardson and her hubby, Stan Levin.
"We thought they would know cool people," said Erik whose father, Fred, helped him write up some questions for the chef since he owns a Mexican restaurant in Milford called The Alamo. "Dante was super nice and saved me on the project."
The former child star said he was impressed by the chef's hands-on approach to his restaurant.
"I figured he would be involved in all the high-level management and the direction of the restaurant. But then he threw on his chef's jacket and went into the kitchen to cut up octopus."
So, did you help out?
"Yeah, I got to give it a squeeze," Erik said. "Pretty slimy."
Sullivan is undecided about his career path, but said he may be interested in the Culinary Institute of America - the Harvard of cooking schools - or maybe even Harvard itself.
As for the acting, the one-time Tinseltownie said he receives a script "every now and then," but doesn't know "how much into it" he can get while trying to get through Exeter!