We just posted some nice early
Malcolm in the Middle
script or online journal quotes, published in a UK magazine just before its BBC 2 premiere during the spring or summer of 2001 (I'm not sure of the exact month).
Note that some quotes have been Anglicized, like 'mum' for 'mom', and 'neighbours' with an extra 'u'.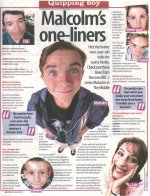 Scan by tjpeople from a fan's scrapbook.
Gallery link
here
.
Rich
Last edited: