'MALCOLM' POWER NO LONGER A BABE IN THE WOODS, THIS BREAKTHROUGH SERIES HITS ITS GROWTH SPURT.
By: Fred Shuster (Staff Writer)
Back in the dressing room, the scene was playing out like something from
Malcolm in the Middle
, which just happened to be the show everyone in the joint was working on.
There was Justin Berfield, the spiky-haired 15-year-old who plays Malcolm's sibling Reese on the top-rated Sunday-night sitcom, which is up for eight Emmy Awards at the Shrine next month.
Next to him on the couch was Diva, a sleepy 12-week-old brown-and-white boxer puppy, named for teen-pop singer and Berfield pal Jessica Simpson. Also on hand was 10-year-old Erik Per Sullivan, the kid who plays Dewey, the youngest brother in the unruly TV clan. They hovered over the pup, examining the snoozing Diva's thickly padded paws.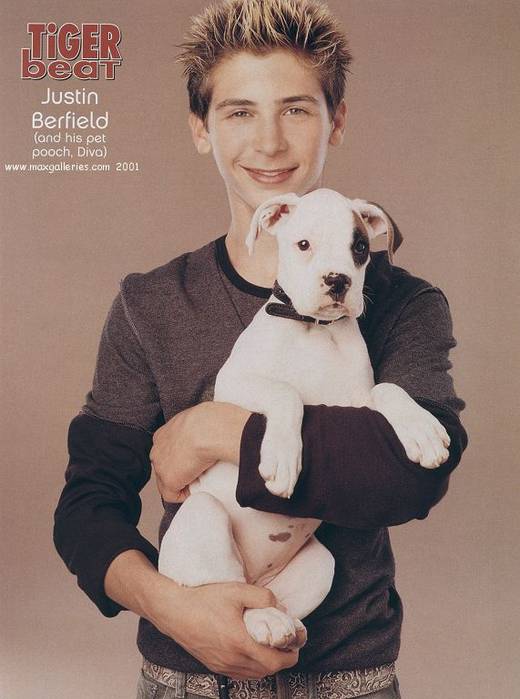 Justin with Diva
"Now, what do you think that stuff on her paws really does?'' Sullivan asks.
"It protects her and cushions her,'' Berfield responds.
"They look like erasers,'' Sullivan rejoins. "Wouldn't that be kind of cool, to have the bottoms of your feet be erasers? Then you could have your feet on the table and your teacher wouldn't be able to say, 'Hey, get your feet off the desk.' You'd just say, 'Hey, I'm erasing something.' You gotta admit it would be pretty cool.''
Real-life kid stuff
That's the sort of natural-sounding kid stuff Fox's award-winning "Malcolm in the Middle'' does well. The story of a middle-class family consisting of four squabbling brothers and their parents, who are just trying to hold on until the last one turns 18, is a sharply penned series that's captured the loyalty of a wide swath of viewers.
"Malcolm in the Middle'' was originally scheduled to debut in the fall of 1999, but Fox gave it the lead-off position in its Sunday night lineup and therefore delayed its premiere until January 2000, after the NFL (National Football League) season was finished. By then, viewers disappointed by comedies such as "Odd Man Out,'' "Work With Me'' and "The Mike O'Malley Show'' were hungry for something that could really make them laugh. Like "All in the Family'' nearly 30 years earlier, "Malcolm'' came to the rescue midseason.
The show was built around the story of a seemingly ordinary 9-year-old who, when found to have an IQ of 165, was forced into the gifted class surrounded by a group of exceptionally bright misfits.
"I'm really not like him much at all,'' says Frankie Muniz Frankie Muniz, who plays Malcolm. Muniz, now 15, is home-schooled and has a tutor on the set during taping days. "I'm not a genius and I wouldn't call my family dysfunctional. And I don't talk like he does.''
Filmed at the CBS Radford soundstages in Studio City, "Malcolm'' is a family show with a difference - it's a lot like reality. Malcolm's clan, often compared to the gang in "The Simpsons,'' doesn't have the neighborhood's best-kept lawn, the cleanest house or best-behaved kids. Mom and Dad aren't the world's most refined role models either. Take, for example, the time Dad had his hairy back shaved right in the kitchen.
The 'Malcolm' boys on the CBS Radford lot in Los Angeles
Childhood is portrayed as a dimly understood, chaotic time. Adults, including the series' parents, are often flawed.
"They make mistakes,'' admits Linwood Boomer, "Malcolm's'' creator and executive producer. "But the alternative is to trot out perfect parents that always do everything right and have all the answers - I just don't think any exist. These people are at least trying. They screw up half the time, but their hearts are in the right place.''
Just like home - almost
That sense of reality is heightened by the set itself, a self-contained near-scale house, built on a soundstage, that boasts a living room, dining room, kitchen, bedrooms, front and back yards. In fact, a visitor sitting on the living room sofa surrounded by a blizzard of toys, games, books and family photos could easily imagine the place was real. Except, that is, for one telling detail - there's no ceiling, just a maze of cables, pulleys and assorted equipment.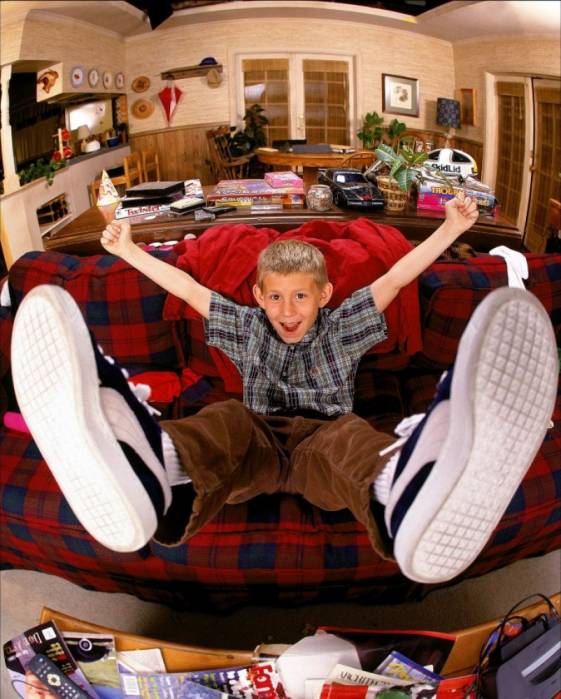 No ceiling
In the kitchen, where a big can of Nesquik sits on the table and the family fridge is decorated with drawings and hand-scrawled notes, Boomer is in the center of a crowd of silent staffers intent on a tiny monitor that's running a scene being shot concurrently in another part of the house.
"And ... camera. And ... cut.''
The feeling is claustrophobic, which is exactly the sense viewers get observing daily life, warts and all, within the walls of the "Malcolm'' home, through the eyes of Malcolm himself. Episodes are shot using a single camera, an idea that came to Boomer in early 1998 while developing the show, which is based on the peaks and valleys of his own childhood in San Mateo.
Like Malcolm, Boomer himself was tagged gifted, which made life "very difficult as a kid to be stuck with that label,'' he recalled.
'Malcolm in the Middle' is edgier than most comedies that center on kids,'' said Barbara Corday, a TV and film professor at the University of Southern California. "So many of these types of shows are out of date and too sweet; 'Malcolm' is a relief from that. The relationship between the parents and kids is certainly more realistic, and that's one aspect which has influenced other new sitcoms.''
Corday added the show's use of a single camera has allowed "Malcolm'' story lines to move beyond the home.
"It's not a living-room show,'' she said. "The single camera has enabled them to get outside, which is unusual for a sitcom. I happen to be a big fan of multiple-camera shows, but there's good reason for the use of just one in this case.''
No laugh tracks
"Malcolm's'' influence was highly visible at the recent Television Critics Association press tour when the new fall series were presented. "Scrubs'' on NBC and "Undeclared'' on Fox are among two new comedy series that dispense with the studio audience and videotape in favor of the more creatively flexible film method. And the laugh tracks are out. A scene is either funny to the people on your couch or it isn't.
In another unusual creative decision, certain key details in "Malcolm in the Middle'' - also starring Jane Kaczmarek as the no-nonsense mom, Lois; Bryan Cranston as the dad, Hal; and Christopher Kennedy Masterson as their smooth-talking oldest son, Francis - are kept ambiguous. For example, the family's last name, city of residence, the dad's exact profession and the show's time period are never discussed.
Add to that the touchy question of Malcolm's age. When the pilot was shot in 1999, Muniz easily passed for his character's age of 9. Since then, he's grown a foot taller and started to look post- instead of prepubescent
"We've decided not to say anything about his age on the show,'' Boomer said. 'It's like the city they live in. We're just saying he's attending middle school, not the actual grade level. We don't want to be locked into something. Kids are so protean with what they say, anyway. Sometimes they act like 9-year-olds and sometimes like 30-year-olds.''
Either way, Muniz is still a kid - and at the Emmys, he could make history. If he prevails as lead actor in a comedy series against elders John Lithgow ("3rd Rock From the Sun''), Kelsey Grammer ("Frasier''), Ray Romano ("Everybody Loves Raymond'') and Eric McCormack ("Will & Grace''), he'll be the youngest ever to snare the trophy in that category.
Other "Malcolm'' nods include best comedy series and a nomination for Kaczmarek's Lois. At the third annual Family Television Awards recently, "Malcolm'' was named best comedy series and Kaczmarek tied for best actress.
Dubbed "a female Homer Simpson'' by TV Guide, veteran stage and screen actress Kaczmarek says while she's well aware of "Malcolm's'' high profile within the industry, she's consumed by her life away from the camera.
'Putty in their hands'
"I'm so busy with my kids, running a household, taking care of a young husband and an old dog, that the job becomes like, 'Oh, I have to go to work now,' '' she said. "The show is so tightly written and blessed with terrific scripts and direction, I just do what they tell me to do. The quicker I get the work done, the sooner I can come home. I trust so implicitly in the powers that control the show that I'm putty in their hands.''
Boomer and "Malcolm's'' other creative forces are credited with blazing a trail that takes the 50-year-old sitcom formula into new, unpredictable territory, including having Malcolm address the audience directly, breaking down the theater's famous fourth wall.
"There are so many elements that make it work,'' says lifetime Valley resident Cranston, the show's cheerfully harried dad. "I don't know who did the blessing, an omnipotent power or what, but things fell into place. But we're really governed by the written word and that's where the pressure is - on the writers.''
Last edited: