I just found out where this old Justin Berfield shot is from.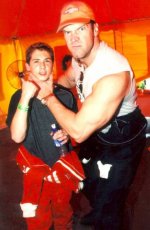 https://www.malcolminthemiddle.co.uk/gallery/showphoto.php?photo=11057
Justin Berfield and former pro-wrestler and 'Halloween'-actor Tyler Mane at the 7th Annual Mini Grand Prix for Charity, to benefit the Loma Linda Ronald McDonald House.
This is a go-karting event.
Mane also played Ajax in the movie Troy (2004).
October 1, 2000, San Bernardino, CA.
Justin Berfield was very active for Ronald McDonald charities at the time.
See also this Gallery album:
https://www.malcolminthemiddle.co.uk/gallery/showgallery.php?cat=1038
Last edited: