Another trip down memory lane .... It's a great interview with 14-year-old Frankie, considering only 2 episodes of MITM had aired by then!
Found on:
http://munizmania.tripod.com
Pictures from our Gallery, and
http://frankiemunizinfo.com
TV's Newest Wunderkind on Girls, Golf and Being a Boy Genius
by Bridget Byrne | January 18, 2000
When the unconventional family sitcom
Malcolm in the Middle
bowed on January 9, more than 22 million tuned in, making it Fox's most successful debut since
The Simpsons
10 years ago. Indeed, the show is hot, and Frankie Muniz, the 14-year-old who plays the genius-who-just-wants-to-be-a-kid title character, is even hotter.
The Wood Ridge, New Jersey, native (he'll take an L.A. apartment with Mom during taping) was inspired to act after seeing his older sister, Cristina, in a regional production of
Joseph and the Amazing Technicolor Dreamcoat
. Without any formal training, he's worked extensively in commercials, movies and stage. He's a straight-A student with a natural knack for just about anything that interests him, be it acting, golf or playing drums. (Kinda makes you hate him already.) And with a starring role in the just opened big-budget film
My Dog Skip
, it's a safe bet Muniz won't be in the middle for long.
Word has it that when you came out of the audition for Malcolm in the Middle, you gave a thumbs-down to your mother. Why was that?
The character was supposed to be 9, so I just thought I was way too old--13 playing a 9-year-old. But they've changed it to 12--or not really made it a set age.
Is it easier playing a younger kid than playing your own age?
Well, I guess so. You know, because I have gone through that time instead of having to play going through it. So, yeah, I guess so. It's easier now that I'm older, and I guess I am smarter. Malcolm's a child genius.
Are you at all like him in real life?
In first grade, I was doing fourth-grade work. But I'm not a genius, just a little ahead.
You said when you heard how great the ratings were, you were jumping up and down on the bed at a Hilton hotel. I hope they're not going to charge you for damage to the springs! Had you been worried about how the show would do?
You know, I guess I really wasn't worried. Everyone I showed it to--like our neighbors--they all liked it. I would think they would just go, "Oh, okay, I liked it." But they REALLY, REALLY liked it--I think because it's more real. It's not like a perfect TV family, it's something they can--what's the word?--identify...yeah, people can identify with it.
Yet it's very different from your own family. Your parents are separated; you, your mother and your sister share a house with your grandparents. You don't even have any brothers, but you play one of four boys. Is that difficult to relate to?
Not really. You know, I've always been around a lot of other kids, and me and my sister fight at times.
Speaking of your sister, I hear you had seen her in a play and that was what inspired you to act.

That was pretty much it, I guess. I saw her, and it looked really, really enjoyable. But, actually, I don't think I said anything until the next thing came up, which was
A Christmas Carol
. My sister wanted to audition, and I asked if I could, too. I played Tiny Tim.
How old were you?
I was nine.
So, then what happened?
Well, during the rehearsals, an agent was watching and asked my mom if I wanted to start doing commercials and stuff, and I signed. I did about 20 commercials in North Carolina and some in New York, and I did TV movies, like
What the Deaf Man Heard
[with Matthew Modine, James Earl Jones and Bernadette Peters] and
To Dance with Olivia
. I get shot in the beginning of that one.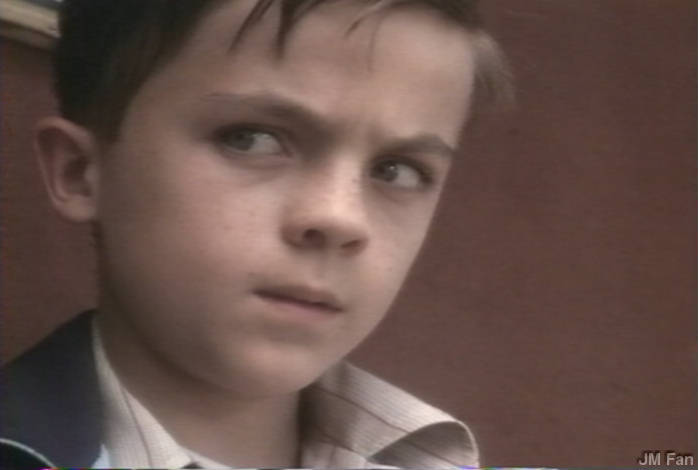 What the Deaf Man Heard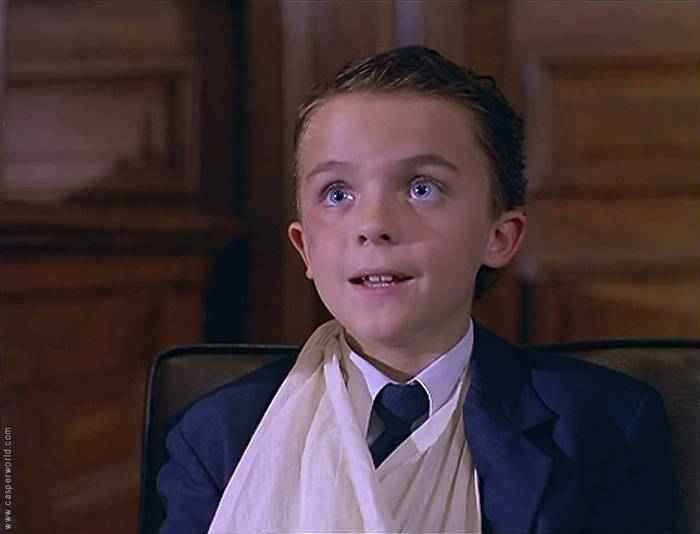 To Dance with Olivia
You've just made the movie My Dog Skip. What was it like to work with a dog?
He was awesome, and he was really well trained. Working with him was really cute. Really cool.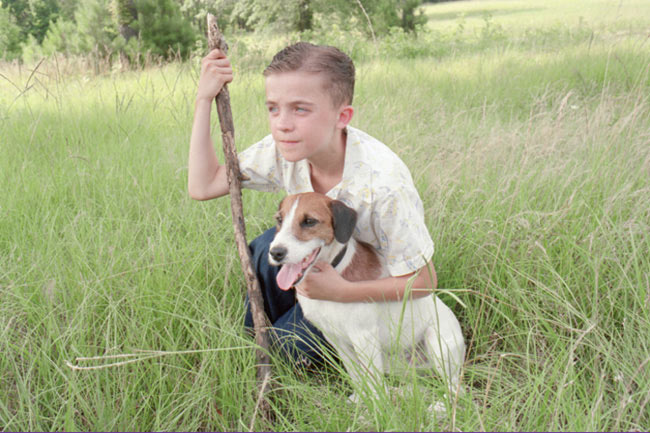 My Dog Skip
Do you have any pets?
I have one cat. His name is Pumpkin. He's a traveling cat. He comes out here with us.
Sounds like you've got a pretty busy schedule. What do you do when you're not working or in school?
I've been golfing since I was five. I love it. It's fun to play, relaxing. My grandfather taught me to play, but now I can out-drive him because he's getting older--but he doesn't mind.
Frankie on the golf course
Golf's very revealing of people's character.
I guess so. When I do do bad, sometimes I get angry. But then I say, "Oh well, hit the next shot." Because if I do stay angry, then I won't hit the ball well again all day. So, I'm learning not to stay angry.
I gather you're good at math. Is that your favorite subject?
No, geography is.
Why?
I just like learning about different countries and people and governments. I'm planning to travel. I love looking at maps. I'd like to be a geographer one day, maybe.
Malcolm and his brothers don't behave terribly well. You seem very well behaved. What's the worst thing you've ever done?
[Long pause.] In kindergarten, there was this kid who sat next to me on the schoolbus, and he was really old. He used to make me say all these bad words, and I would get into trouble. I was, like five, so I didn't know what they meant.
What's your favorite TV show?
Shasta McNasty
, though I think it may have been canceled.
Actually, I think they renamed it Shasta and put it back on the schedule. What kind of music do you like?
Anything except rap. I play the drums.
What was your favorite movie this year?
Anna and the King
.
Favorite food?
Hamburgers.
Well, the way things are going with your career, you'll have plenty of burgers for a long time to come. Did you think about fame when you first started?

I think I just thought about the acting in the beginning.
And is this what you thought acting would be like?
I guess so. It's really awesome, you know. I really love it.
Are you worried about all the attention you're going to get, especially from girls? Do you have a girlfriend?

No. Maybe if I stay in one place. I think it's unfair to the girl, because I'm always moving all over the place.
Have you received fan mail yet?
I've gotten a couple of letters, and my grandma says there are letters waiting at home. [Laughs.] People have asked me for my hair!